The Working Man's Food Plot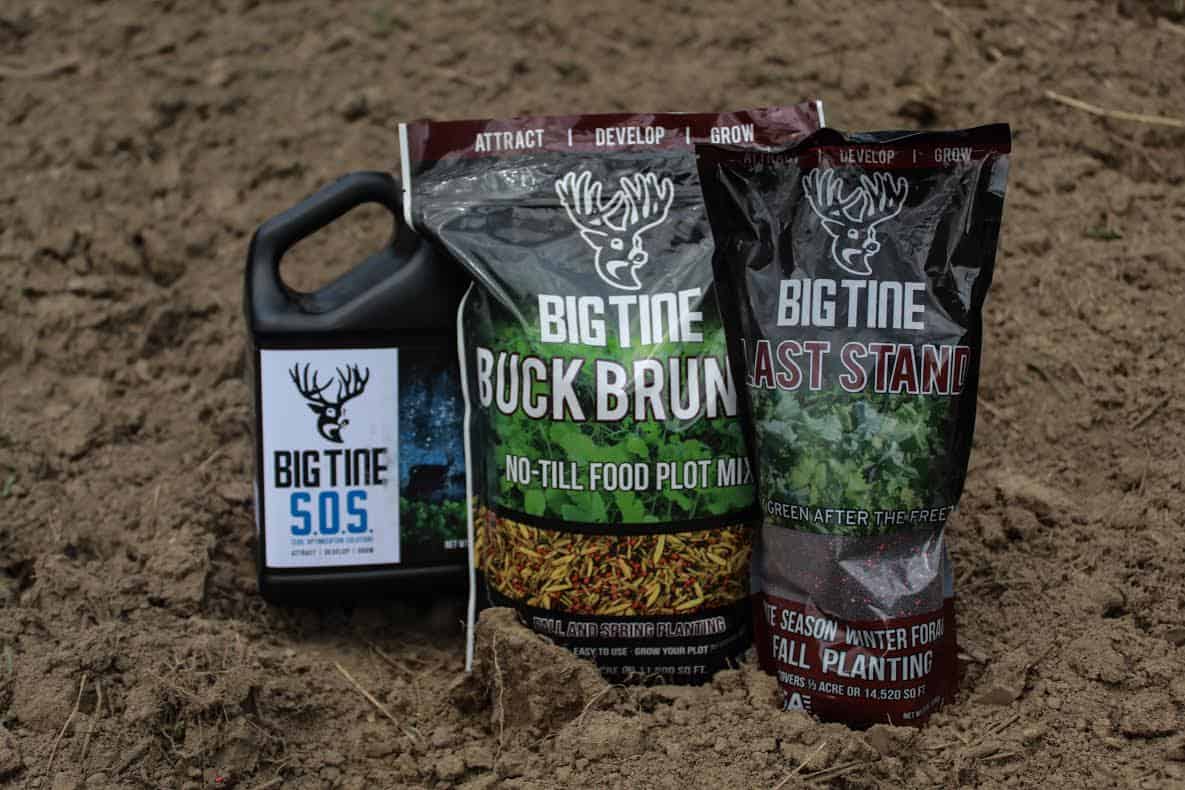 It's not too late to supply your whitetail herd with the nutrition they need for the winter ahead.  If you're like me, you might find yourself feeling behind. You might feel you're running out of time, or you don't have the money or the equipment required to have a successful food plot. The truth is, the late summer and fall is the time deer begin to increase their nutritional intake, which not only assists in antler growth but reproduction, immune response, and weight gain as well.
Whitetails need enough energy to prepare for the rut and carry them through the cold winter months, so food plots can be an extremely beneficial food source for them. Big Tine has the perfect options to yield success without spending an arm and a leg. Big Tine's Buck Brunch and Last Stand don't require heavy equipment, they're easy and fast to use, and they're composed of everything you need to support your whitetail in the coming hunting season.
Big Tine Buck Brunch is an annual, no-till food plot mix that can be planted for any type of plot you're needing. Whether you want to plant for the warmer months or you're in need of a plot to take your deer into the late season, Buck Brunch can do both. The seeds will germinate within seven days of rainfall or watering and only situs judi bola require a minimum of 3-4 hours of sunlight a day. This no-till mix is incredibly versatile and specifically formulated to grow in remote areas, thriving in just about any condition and terrain.
Buck Brunch grows in lightly shaded areas, making it a premium mix that can grow just about anywhere. I personally believe that it's more valuable to plant by a treestand on the edge of the woods, or in a clearing within the timber. When mature bucks start to feel pressured, they'll stay where they feel concealed. Supplying the nutrition they need where there is coverage could be more beneficial.
Just one bag of Buck Brunch is sufficient to cover up to 1/4 acre and it doesn't need to be tilled once it's exposed to the dirt. There is no heavy machinery required, and it's easy to use. Buck Brunch Food Plot Mix is a supreme blend whitetails will hammer down, consisting of clovers, turnips, rape, and cereal grains, the perfect mix IBCBET during heavy snow and cold weather. Not only will this mix attract deer, but it will hold them there for up to nine months.
Another option, that can be used on its own or with Buck Brunch, is Big Tine's Last Stand. This is a late season food plot mix, specifically formulated to be highly drought-resistant and able to withstand the coldest of temperatures. Similar to Buck Brunch, it will attract and hold deer in your area and germinates within 7 days of being watered. This mix is comprised of turnip and forage rape, and will provide forage up to one-third of an acre. Last Stand was made for the intention of being used for fall plots, staying green into the freezing months and supplying your deer with premium nutrition to assist in rut reproduction and carry them through the winter.
If you want to take your food plot to the next level, feed your plot with Big Tine S.O.S for added quality assurance. Soil conditions are vital to food plot success. Big Tine S.O.S. enhances the soil by assisting in remineralization and stimulates micro-flora populations. This helps reduce stress from drought and heat while improving nutrient uptake.
It's not too late to supply your whitetail herd with the nutrition they need for the winter ahead. Now is the time to invest in Big Tine's Buck Brunch and Last Stand to yield a profitable food plot. Don't be intimidated by the thought of costly, labor-intensive food plots. Bring in deer, and keep them there because every inch matters. Get yourself some Buck Brunch and Last Stand today!